About Us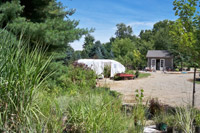 The Carrigan Nursery
Established in 2007, Lacy Creek Growers, LLC and owners, the Carrigans, have gained much knowledge through their time in business. Around the nursery, things are constantly busy and continually changing. We are a rural business, and have found a niche supplying unusual plants online, selling though several sites. While we do not keep regular business hours any longer from our at home nursery, we are available by appointment. If you are looking for specific items, we do our best to aquire them for you in whatever size and price range you are hoping for. With plant knowlege and an eye for design, we are happy to help local folks with any landscape need.
While not trained as horticulturists, both Tom and Kathy have had great interest in plants and have 30 years of experience. Tom's profession was as a jouneyman pipe fitter, retired from GM in 2008 after 30 years of service. A science and nature nut, he is the backbone of the technical side of the business. Tom is also a 'big motor' fanatic. Currently he's working on a '39 Chevy roadster that will be powered by a World War II Allison V-12 motor! He has plans to build a unique car with a T-58 turbine engine as well. And then there is his '73 Dodge Charger with the blown 440 motor that is his 'everyday' car. If visiting the nursery, feel free to ask for a peek at his projects. Tom always enjoys showing guests his current work.
Kathy has been a stay-at-home mom most of her career, working part-time in nursery centers and farm markets as well as putting in 6 years of service with GM too. With a passion for plants, she is totally engrossed in learning the ins and outs of the nursery trade. Clearly, Kathy has a vision to turn the ordinary into things of extraordinary beauty, and you will find her to be a valuable asset if you have landscape or plant questions. Approachable and caring, Kathy is the heart of the business.
Family oriented, the Carrigans have three married children and 4 grandchildren. Community activities—from school, scouts, church and local clubs—have been a priority for them over the years. Above all Tom and Kathy hold the Bible to be true and endeavor to live by its principles. With small-town service and old-time values, you can expect honesty, respect and courtesy in dealing with them.
Thank you for considering Lacy Creek Growers as a supplier for your landscape plant needs!

At this time online ordering is available for Miscanthus Giganteus, Intersectional Peonies and Herbaceous Peonies. For information on any other plants please contact us at kathy@lacycreekgrowers.com, or by phone (517) 726-0026.

Browse through what is available at our nursery for pickup only. When purschasing items from our nursery in person we only except cash or checks.

Fill out our mail order form and include a check or money order. Download Printable Order Form >>
---
In God We Trust †